How Does lt Help Keep Me Healthy?
OMEGA-3 DOUBLE is powered by the goodness of omega-3 fatty acids which are crucial for the my physical and mental development. These good fats , which consists of  long chain PUFAS, EPA and DHA , help lower my risk of heart disease and improve joint, brain and eye health. They also promote healthy bones and joints, keeping me healthy and strong in my daily life!
It Is Powered By...
This powerful formula runs on the goodness of the ingredients below!
It Does Not have...
This supplement has not been made using any of the below.
Artificial Flavours
Dairy
Gluten
Harmful Chemicals
Pesticide Contamination
Soy
Rest Assured, It Is...
GMP Certified
Halal Certified
ISO Certified
Kosher Certified

Natural
Scientifically Proven
It Is Loved By…
Omega-3 Double's range of unique benefits make it the popular choice of many!
Know More About OMEGA – 3 DOUBLE
Omega-3 fatty acids, a natural extract from the fish sardine longiceps, supplement the human body with long-chain PUFAS, EPA, and DHA.
They:
• Are essential for cell building in brain, retina, nerves, and spermatozoa
• Effectively combat arthritis, minimise heart problems, and improve visual acuity.
• Are incorporated into the bilayer phospholipid cell membranes which ensures the strength, integrity, and fluidity of the cell membranes
• Decreases cardiovascular incidents and their severity and lowers mortality by 30%
• Reduce the risk of rheumatoid arthritis
Omega-3 fatty acids are required for many of the important functions of the body. However, they cannot be manufactured by body. Hence, they are called essential fatty acids and must be obtained from dietary sources.
We recommend taking 1-2 soft gels per day immediately before food.
Yes. All you have to do is subscribe and we'll ship you a bottle every month!
Yes, just select the gifting option and we'll send it to them with a special note from you!
Does it cause any side effects?
Omega-3 Double does not typically cause any side effects.
Please consult your healthcare practitioner before using the supplement if you are pregnant, taking any medications or facing any health conditions.
Is Omega-3 Double safe?
Omega 3 Double is safe in terms of microbiological parameters, heavy metals, pesticide residues, dioxins and PCB which is usually found in raw fish oil and fish.
Where do you get omega-3 fatty acids from?
They are obtained from sea food. Sardine is believed to be the best source of omega-3 fatty acids.
What are the main omega-3 fatty acids?
There are three different types of omega-3 fatty acids. Eicosapentaenoic acid (EPA) and docosahexanoic acid (DHA) are key omega-3 fatty acids which are both found primarily in oily, cold-water fish. The third Omega-3, called alpha-linolenic acid (ALA), is found primarily in dark green leafy vegetables, flaxseed oil and certain vegetable oils.
Which one is good for my body – EPA, DHA or ALA?
ALA, EPA and DHA are all essential fatty acids and should be a part of a healthy diet.
Each omega-3 fatty acid has a unique and vital function.
• ALA is the basic form of energy for the body.
• EPA is an anti-inflammatory agent.
• DHA is a component for proper brain function.
When should I expect to see results?
Every individual is different so the speed of results may vary. But you can usually see results after 3-6 weeks if you take the recommended dose regularly.
What should I do if I miss a dose?
Don't worry, just take the dose when you realise you've missed it! However, if the time is close to your next dose, then continue with your usual regimen.
What other directions should I follow?
• Store in a cool and dry place.
• Keep out of reach of children.
• Do not exceed daily recommended dose.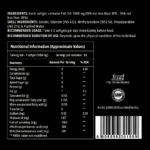 Serving Size:
1,000 mg soft gel contains:
Carbohydrate: 0 mg
Protein: 0 mg
Fat: 999 mg
Energy Value (Kcal/ capsule) 8.9
Shell Ingredients:
Gelatin food grade, glycerin (INS 422), methyl paraben ( INS 218), propyl paraben ( INS 216), purified water.