Natural Support for Cognitive Health with Bacopa  Monnieri  Extract with Bacosides >20%
How Does lt Help Me?
Daily Brahmi, Bacopa monnieri (Brahmi) has been used traditionally for its brain nourishing and revitalizing properties. Bacosides the active present in Brahmi extract protect the cells from oxidative stress, free radicals and thus contributes in enhancing memory and concentration. It also supports normal nervous system functions and cognitive health irrespective of age.
It Does Not have...
This supplement has not been made using any of the below.
Artificial Flavours
Dairy
Gluten
Harmful Chemicals
Pesticide Contamination
Soy
Rest Assured, It Is...
GMP Certified
Halal Certified
ISO Certified
Kosher Certified

Natural
Scientifically Proven
It Is Loved By…
Daily Brahmi's unique benefits make it the beloved favourite of many!
Know More About DAILY BRAHMI
Daily Brahmi brings me the goodness of natural bacopa monnieri that is known for its traditional brain nourishing and revitalising properties.
Bacopa Monnieri or Daily Brahmi capsules has Natural Antioxidant & Nutritional Properties that:
Protect from free radicals that are present in the environment
Stands for higher concentration, vitality and stamina levels
Contains essential amino acids, minerals, antioxidants, vitamin A, Vitamin B, Calcium, Iron, Magnesium,  and more.
We recommend taking 1-2 capsules every day.
Yes. All you have to do is subscribe and we'll ship you a bottle every month!
Yes, just select the gifting option and we'll send it to them with a special note from you!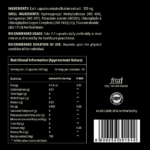 Shell Ingredient: Hydroxypropyl methyl cellulose(INS 464), Carrageenan (INS 407), Potassium Acetate(INS 261),
Chlorophyllins Copper Complexes (INS141 (i)(ii), Titanium Dioxide (INS171) & Purified Water.